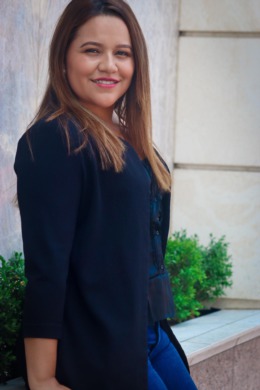 Ana Karen Contreras
Realtor licensed in Kansas
Web Site : ana.wingmanrealty.com
Email      : [email protected]
Cell        : 913-406-2412
 Wingman Realty LLC
"Never buy solo"
SCHEDULE AN APPOINTMENT WITH ANA
Please Read REALTOR ® COVID SHOWING GUIDELINES TO KEEP YOU AND ALL OUR BUYERS AND SELLERS SAFE:
When showing a house:
Please limit to only the actual buyers to go inside the home whenever possible (please refrain from bringing children or other family members - or plan to have them wait outside.)
Wear a mask 
Remove shoes at the front door (please wear slip-on shoes when possible)
Refrain from touching anything - The licensed agent will open any door knobs and turn on the light switches with the use of a gloved hand or disinfectant wipe.
No one displaying symptoms to go in the house. (coughing, fever, difficulty breathing, etc)

Al mostrar una casa:
Limite solo a los compradores reales para que entren al hogar siempre que sea posible (evite traer niños u otros miembros de la familia, o planee hacer que esperen afuera).
Use una máscara
Quítese los zapatos en la puerta delantera (use zapatos sin cordones cuando sea posible)
Abstenerse de tocar cualquier cosa: el agente con licencia abrirá las perillas de las puertas y encenderá los interruptores de luz con el uso de una mano enguantada o una toallita desinfectante.
Nadie mostrando síntomas para entrar en la casa. (tos, fiebre, dificultad para respirar, etc.)
Pending 5642 Georgia Ave
Kansas City, KS 66104