ISA TRAINING
ISA = Inside Sales Agent. Responsibility is to make initial contact, nurture and develop leads until they become closings and use those closings to identify other buyer or seller opportunities. ISA's may also be tasked with making calls, texts or emails to solicit investment properties or to recruit agents or any other product or service that our office is endeavoring to sell. (*this may change from time to time)
First it's important to know the expected outcome or desired result. The purpose of each phone call, text or email is to schedule the appointment. The ideal appointment will be a ready, willing and able buyer or seller.
can we get them to meet? (choice = at the offfice or at the first house)
then we see if we can get them to be interested in multiple properties (either they provide or we suggest that we will come up with some that are not even on the MLS)
after we get them to commit to meet with us, THEN we ask some qualifying questions. (it's important not to do this before you get them to commit to meet - as this can be a turn-off for some buyers)
Are they working with any other Realtors?
Have they been looking long?
Ideally, when would they like to be living in their next home (using language like this paints a mental image of them living in another hom)
Are they working with a lender or would they like us to help them choose one, (*we have lenders with all types of loan programs including some that offer 1st time buyer programs, some that offer down payment assistance, some that do 0% down loans, and some that will do credit scores starting at 570) (saying all of this gives them the chance to tell us without any judgement which loan program they most likely would need and if we help them then we can talk directly to the lender and help make sure the deal stays together)
ISA's are the first contact with the company in many instances. It's important to have good grammar and great follow up skills.
Tips:
Generic Voicmail isn't identifying us as soliciting for Real Estate or sound like a solicitation call - sound personal
Call and if no answer - hang up and call right back (this is very successful method)
Memorize the "

Overcoming Objections"

Never act like you are "bothering someone" - don't be apologetic etc

Calls work better than mass messaging texts or emails - success is based on number of calls made - its a numbers game - a certain number of those you reach will say yes

If you have good hooks, you have good "sticks"

use DISC profiling to target how to talk to them: " D personalities don't like to waste time - Time is a key factor for them - talk about saving them time and jump straight to the offer) - Study the personality types and try to practice identifying what personality type you think they are

Try to sell less like a sales person (use pauses and stammers/hesitations, repeat words)
STEP 1: INITIAL TRAINING = 11.5 HOURS
Go to https://coaching.craigproctor.com/dashboard
user: [email protected] (SEE ALSO LASTPASS.COM)
password: Wingman1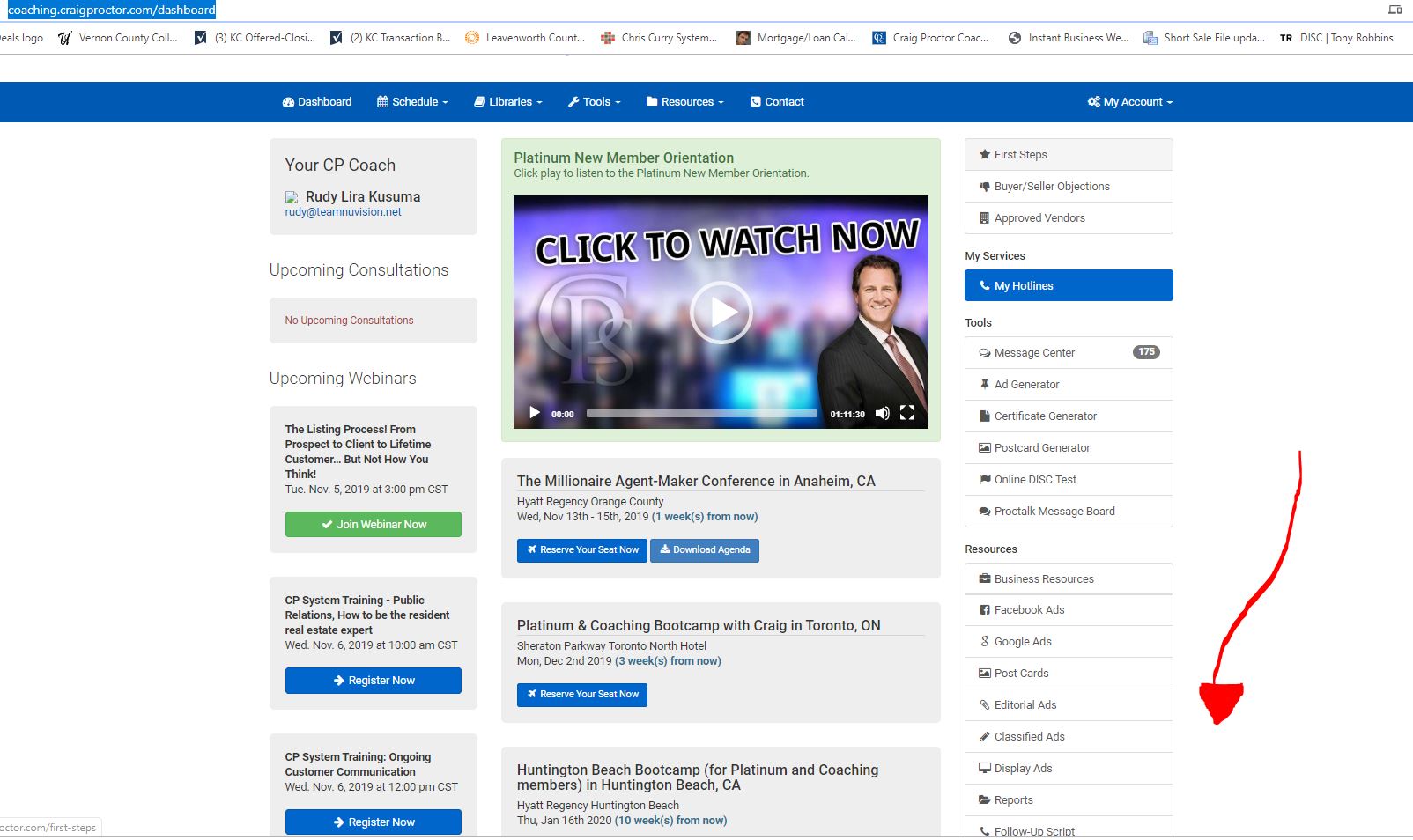 INITIAL ISA TRAINING = 6 modules ( 6 hours)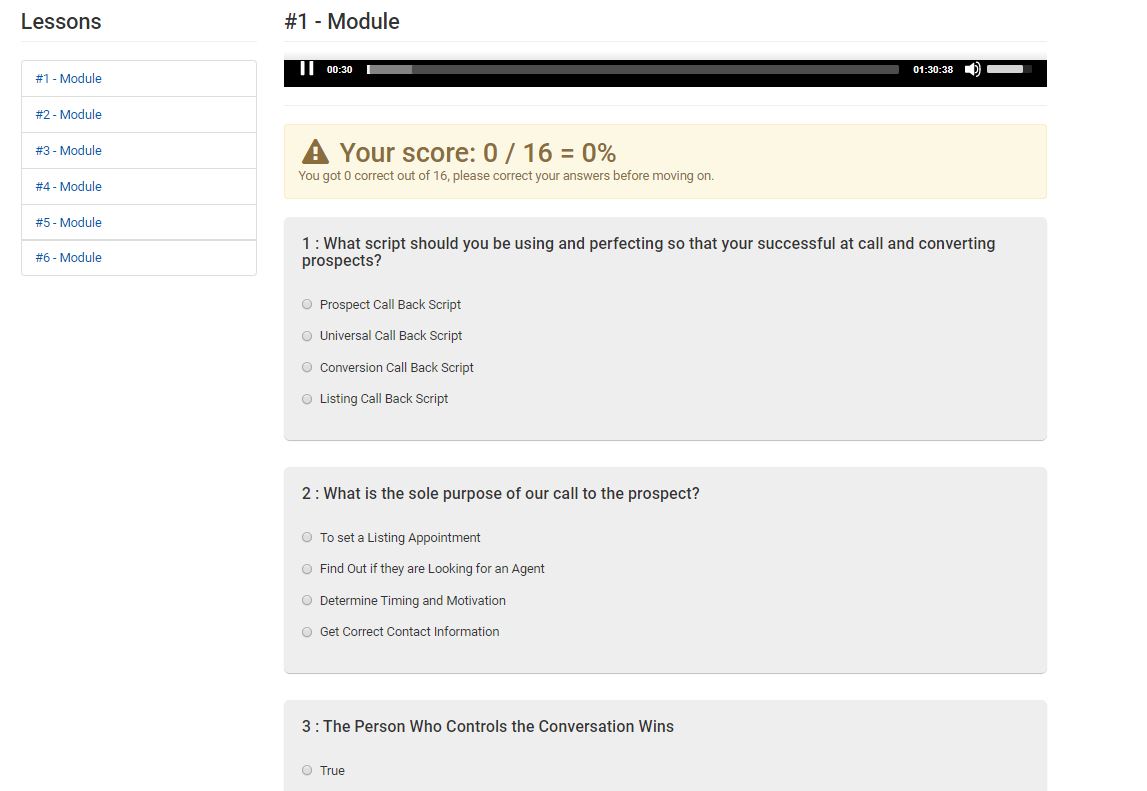 Listen to the BEST ISA TRAINING from Craig Proctor = 1 hour
https://coaching.craigproctor.com/webinars?page=3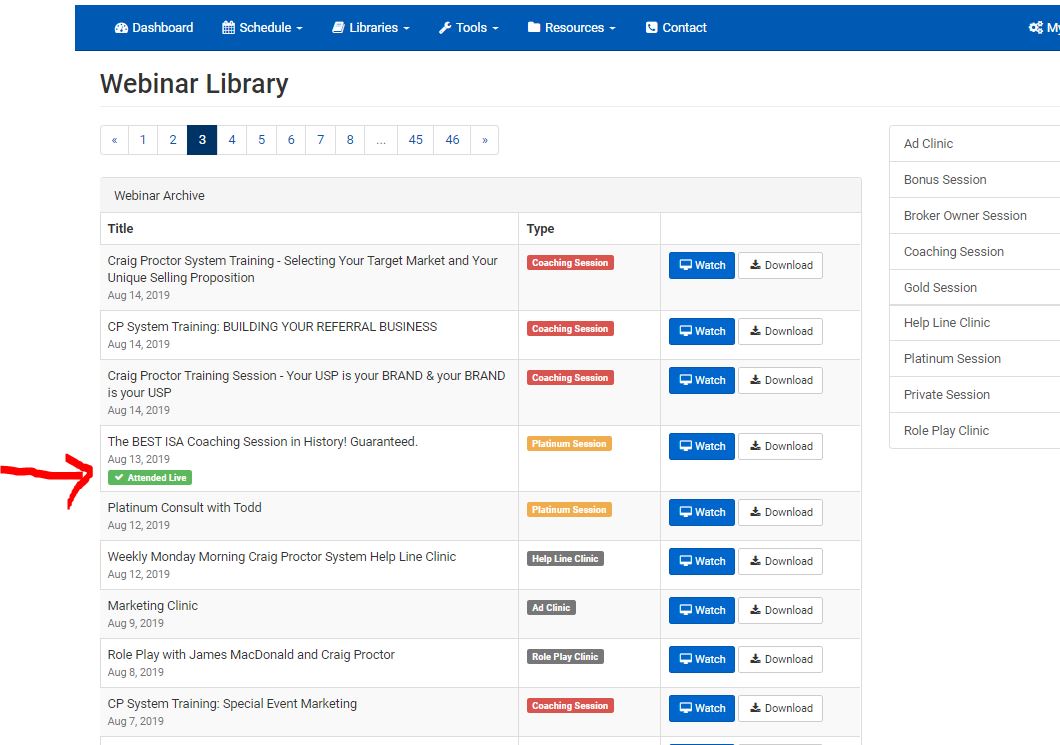 Listen to the follow up calls by Craig Proctor: = 4 HOURS
https://coaching.craigproctor.com/library?query=follow
1977, 1976, 1975, 1974,

OTHER = 30 min

STEP 2 SCRIPTS: USE Universal Call Back Script .. this is for use of Traditional Buyers and Sellers .. not really for prospecting Investor deals.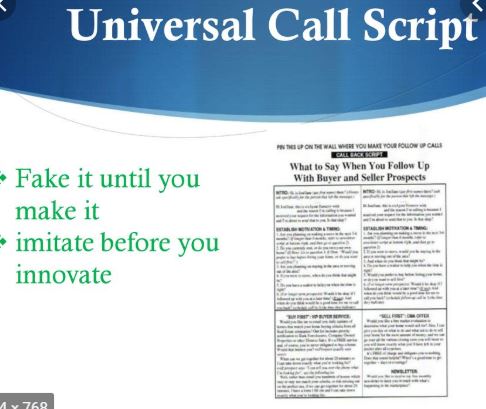 STEP 3 Schedule the Appt and send the Follow Up Questionnaire to The Buyer or Listing Specialist (OSA)
For BUYERS: Send this Blank Form to the email address for the OSA (label with lead name and send to Buyer Agent/Specialist)
For SELLERS: Send this Blank Form for Seller to the email address (label Subject with Lead name and sen to the Listing Specialist )
TRACKING: Complete the PRODUCTION Summary LOG Spreadsheet tracking DAILY and complete and Share with the TEAM LEADER who will also conduct a monthly review by the 3rd of the following month: this form needs to be created (ie. the Lead name, lead address, outcome of call and outcome of appointment Calls Made, People Reached, Appointments Set and Source, how many are buying in the next 3-6 months to track good lead sources vs poor performance lead sources.) Outcomes include: signed listing agreement, signed buyer contract, Further follow up needed, Lost Listing/Buyer to another Agent, Dud (this may be possible to track automatically inside of Sierra )
STep 4: Follow up After Appt or Agreement Signed
After a lead is assigned to an agent, the ISA will follow up with the lead or the agent or even possibly both to get the result of the meeting and track the results. We are tag-teaming this lead until they are "under contract"
AN AGENT WHO FAILS TO RETURN ENQUIRIES IS REMOVED FROM LEAD DISTRIBUTION FOR A MINIMUM OF 48 HOURS AND WILL NOT BE REINSTATED UNTIL CONVINCING THE LEAD MANAGER THAT THEY WILL CONSISTENTLY RETURN CALLS IN A TIMELY MANNER
Verify the Qualifying appt Form has been completed within 48 hours (check the google docs spreadsheet in

[email protected]

account
After the Buyer has signed an agreement with the Buyer Agent, plan to follow up with them again each week (or other if directed by the client) to verify taht the agent hasn't forgotten about them and they slip through the cracks (especially ones that require some credit repair) - Check Sierra Notes to see their level of activity on looking at houses. (expection for follow up contact is contact to be made 3x in the first month and every 3 weeks after that.
After a Listing goes Live, Follow up by ISA and Listing Specialist should be coordinated every 30 days. this includes a new updated CMA (new, expireds, under contract and sold) and a review of all showing feedback. Put results and feedback of that follow up in the notes - note any resolution for price change and unresolved objections.
Use Sierra's task manager to create follow up reminders
Database Management:
ALL LEADS MUST BE ENTERED INTO DATABASE MANAGEMENT SYSTEM – NO EXCEPTIONS – IF IT'S NOT IN THE SYSTEM, IT DOESN'T EXIST! (i.e. sign calls, calls from letters, closed clients to call for referrals) These should be tagged correctly.
Step 5: Follow up After They are UNDER CONTRACT or CLOSED - to get Testimonial and/or Referral.
ISA to follow up with the buyer/seller at or near the end of the transaction to check in with them and see how they would rate us - and request a testimonial and referral.
We have a referral offer to use - Let's Discuss when you get to this.
---
---

THERE ARE SEVERAL USP'S ("UNIQUE SELLING PROPOSITIONS") THAT CAN BE OFFERED.
KNOWING THEM CAN HELP YOU SECURE THE APPOINTMENTS